This week leading up to the 4th of July on Saturday, we will be doing HERO workouts all week.
A) Group Stretch
B) 5 Minute EMOM
3x Good Morning (unloaded Bar)
1x Power Clean
2x Front Squats
1x Shoulder Press
C) "DT"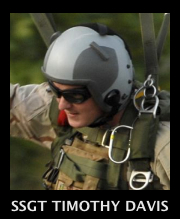 In honor of USAF SSgt Timothy P. Davis, 28, who was killed on Feburary, 20 2009 supporting operations in OEF when his vehicle was struck by an IED. Timothy is survived by his wife Megan and one-year old son T.J.
5 Rounds for time
12x Dead Lift (Rx155/105)
9x 155 Hang Power Clean (Rx155/105)
6x Push Jerk (Rx155/105)